Hasbro Pulse Con streamed online today and Power Rangers fans were chomping at the bit to get more information on Power Rangers Cosmic Fury, the 30th season of the franchise. And the fans were not disappointed! Let's get straight into it!
Cosmic Fury Panel, hosted by Andre (Black Nerd Comedy)
You can check out the full 54minute panel hosted by Andre the Black Nerd, but so much was covered: SPOILER ALERT as the panel does ask questions regarding the back half of season two of Power Rangers Dino Fury that is now streaming on Netflix. This panel also covers the cast's excitement in going back to New Zealand, what they're most looking forward to when filming starts, cast bloopers, and a quick look at Power Rangers Cosmic Fury.
Uchu Sentai Kyuranger Zord Footage
Timestamp: 40m40s
Executive Producer/Showrunner Simon Bennett did indicate that the ground fight footage in Power Rangers Dino Fury really out did itself not only with fight scenes with the cast, but in-sit as well. This will continue on in Power Rangers Cosmic Fury with even bigger original action sequences, and the use of the zord footage which he has confirmed to be adapting from Uchu Sentai Kyuranger. Kyuranger is being used because "it's a space series, and Cosmic Fury is a space series, and it makes perfect sense."
Original Dino Fury Evolved Suits
Timestamp: 42m42s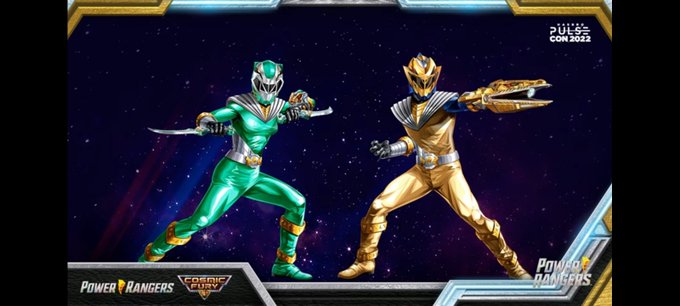 In response to Andre's questions about zord footage from the sentai only being used what that means for Cosmic Fury suits, Bennett confirmed what fans had begun guessing once he logo for Power Rangers Cosmic Fury was revealed:
"[…]They will be original designs. So, um, we're not adapting the Kyuranger Ranger costumes. The designs will be an evolution of the Dino Fury suits, but they will be fresh designs and they will be new morphers and there will be new weapons. And what we're doing with Cosmic Fury is combining two of the franchise's most successful and strongest things which is dinosaurs and space."
The Rangers will get new weapons based on their dinosaurs, but also they get to keep the dinosaurs assigned to them: Zayto (Red Ranger / Russell Curry) T-Rex; Amelia (Pink Ranger / Hunter Deno) Ankylosaurus; Ollie (Blue Ranger / Kai Moya) Triceratops; Javi (Black Ranger / Chance Perez) Stegosaurus; Izzy (Green Ranger / Tessa Rao) Saber-Tooth Tiger; and Aiyon (Gold Ranger / Jordon FIte) Mosasaurus.
Cosmic Fury Tidbits
Timestamp: 47m55s
Season 30 starts where the final scene of Power Rangers Dino Fury ended

Lord Zedd will return as main villain of Cosmic Fury

New original villains will be created to work alongside Lord Zedd

Characters like family, friends, and foes will return – "those that made their mark and people have gotten to know nad care about in season 28 and 29 will return in season 30" -Bennett

Hasbro has worked with Netflix on a global exclusive deal so the episodes will be available all on the same day, limiting international spoilers

There will be TEN EPISODES of Power Rangers Cosmic Fury – confirming the shorter filming schedule depicted on casting sides – Source
Power Rangers 30th Anniversary
Timestamp: 50m35s
Many have wondered due to casting calls and information getting out what, exactly, the 30th anniversary could entail. David Yost (Billy / Mighty Morphin' Blue) and Walter Emmanuel Jones (Zack / Mighty Morphin' Black) confirmed that a Power Ranges special is being filmed and that they are both currently on set of the project.

After the news of a casting call for the character of "Yen" – said to be the daughter of former Yellow Ranger Trini Kwan – was released, not much was heard about what the project was for, or if it was even happening. Especially after the reveal of the Power Rangers Dino Fury cast returning for a third season. Questions about this project arose once more when news of Austin St. John's alleged participation in a Covid PPE scam hit the news cycle.

There is still no word at this time about what the "Yen" character is for, but fans were excited to see these two actors together, on set, filming something to celebrate the milestone. Especially since Yost has not appeared on screen to reprise his role in Power Rangers since his departure in Power Rangers Zeo due to experiencing on-set homophobia. (He has appeared in archived footage in Power Rangers Beast Morphers.)
It should also be noted that Steve Cardenas, wile not officially confirmed, is presumably on set with David Yost and Walter Jones as well. Via @Ranger_ESP, they noticed the Carlisle Comic Con Facebook Page make an announcement on Steve Cardenas's cancellation on appearing at the convention, stating he was in New Zealand:
There's a lot too be excited for in 2023 with the Power Rangers franchise. Who else will be joining David and Walter in New Zealand to celebrate the 30th anniversary of the franchise? How excited are you to see just how original Power Rangers Cosmic Fury will be and where the story lines will take the Rangers?
Stay with The Power Scoop for all your behind the scenes, and production news for Power Rangers, Dino Fury, Cosmic Fury and more – follow The Power Scoop on Twitter and Instagram.