I'm not after going to Hollywood or being famous, I just want to tell interesting stories."

-Robyn Grace, Helensville Community News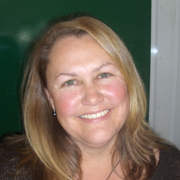 Robyn Grace has prior experience with the Power Rangers television series as she has previously worked as a 1st AD (assistant director) for Power Rangers Jungle Fury, Power Rangers Samurai, Power Rangers Dino Charge, and Power Rangers Ninja Steel. She also worked on Power Rangers Mystic Force as 2nd AD.

You can see all the episodes of Power Rangers that Grace has worked on at Grnrngr.com.

She now returns to the franchise as a director for Power Rangers Dino Fury. This is her first episode of Power Rangers she has directed.
Robyn has an extensive knowledge of film, having worked as a sought after First Assistant Director and Associate Producer for over 20 years, on both large-scale international productions and local films such as GUNS AKIMBO, IN DARK PLACES, DEATHGASM, 1000 ROPES.

RobynGrace.co.nz

Grace has years of experience under her belt as she has also worked as a first assistant director on New Zealand hit shows, "The Shannara Chronicles," (in which Power Rangers Dino Charge's Graphite Ranger, Jarred Blakiston appeared as the "Font Demon" in the first season), "Legend of the Seeker," "Spartacus."

She also worked as assistant first director on Deathgasm (starring Power Rangers RPM's Milo Cawthorne and Power Rangers Super Samurai's Kimberly Crossman) and Westside (starring Power Rangers Jungle Fury's David de Latour and Power Rangers Mystic Force's Antonia Prebble) as a first assistant director.
While her directorial credits are short, she has recently added directing the fifth episode of the soon-to-be-released on Netflix DC series being filmed in New Zealand, "Sweet Tooth," in addition to Power Rangers Dino Fury, to her resume. She also currently works as a 1st AD for "Sweet Tooth;" the new post-apocolyptic series is set to be released on Netflix , June 4, 2021.

Keep an eye out for her Power Rangers directorial debut later on in the year. Power Rangers Dino Fury returns from hiatus later on in the fall; airing Saturdays at 8am ET/PT on Nickelodeon.

You can see all of Grace's credits at IMDB.
---

Stay with The Power Scoop for all your behind the scenes, and production news for Power Rangers, Dino Fury, Cosmic Fury and more – follow The Power Scoop on Twitter and Instagram.