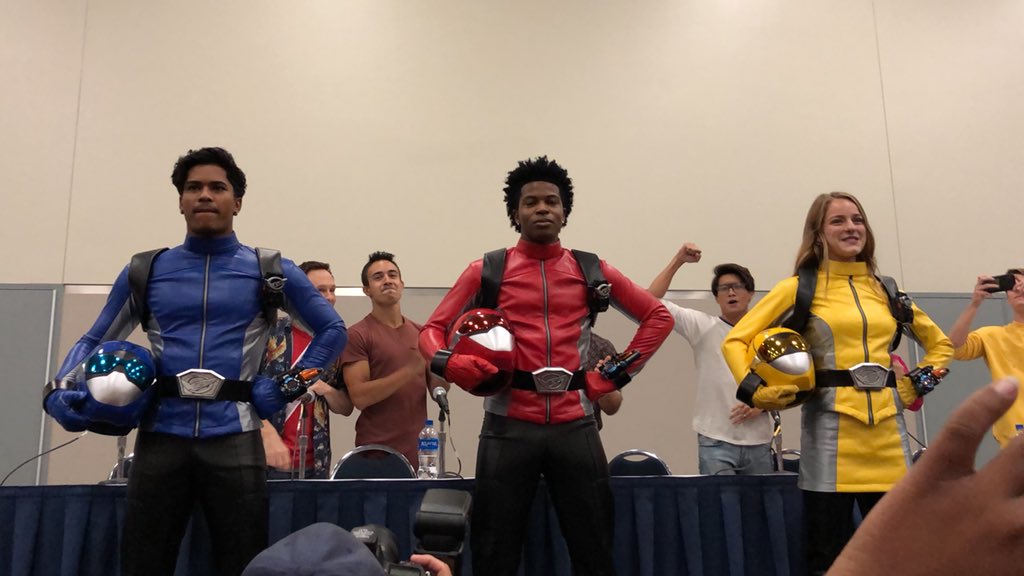 (Image via @RangerCommandPH)
After months of waiting, and building excitement for what the 26th season of the Power Rangers franchise could be (will it be a sequel to Power Rangers RPM or a whole new story) the cast was officially revealed at 2018's Power Morphicon – held for the first time in Anaheim California from August 17-19th.
Jasmeet Baduwalia is the Blue Beast Morphers Ranger (Instagram)


Rorrie D. Travis is the Red Beast Morphers Ranger (Instagram | Facebook)

Jacqueline Scislowski is the Yellow Beast Morphers Ranger


(Instagram | Twitter | Official Page)
Cast Reveal:
First Beast Morphers Trailer:
One interesting tidbit heard in Iris Hampton's panel covering casting for the show, such as "Iris Hampton just implied they're going along with what Go-Busters did re: Stag Buster, saying she cast four rangers." (via @aresef)
The four actors, and Chip Lynn, will be heading off to New Zealand real soon to start (pre-)production of the new seasons: Power Rangers Beast Morphers. They will be in NZ for 8-12 months working on the new season, which will start airing in Spring 2019 on Nickelodeon.
Set in the future, a secret agency combines a newly discovered substance called "Morph-X" with animal DNA to create the Power Rangers Beast Morphers team. The Rangers must fight off an evil sentient computer virus bent on taking over the source of all Ranger power, the Morphin Grid itself. Featuring never-before-seen leather suits and an all-new beast-themed arsenal (including dynamic new Zords), fans should get ready for a season full of secret ops and morphinominal fun.
---
Stay with The Power Scoop for all your behind the scenes, and production news for Power Rangers, Beast Morphers, and more – follow The Power Scoop on Twitter and Instagram.