Source: USAToday
With San Diego Comic Con starting this week, more news about the Power Rangers movie has been steadily rolling in. The latest news is this first look image of the Ranger actors in the suits for the new movie.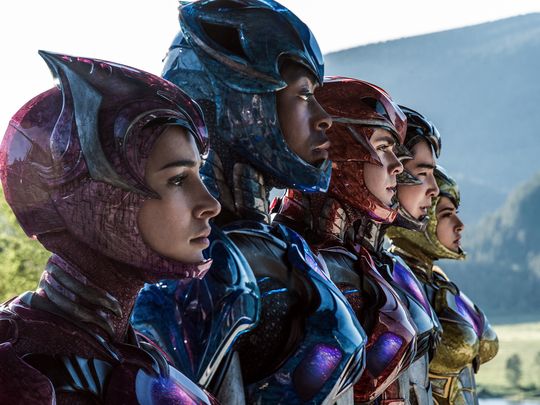 (HQ Version of Image // via @AHSource_News)
The Power Rangers movie will have a presence at San Diego Comic Con with not only an exclusive VIP party with teh cast and director, Dean Israelite, but they'll have their own off site panel as well.
Via Ranger Command Power Hour:
The Power Rangers movie cast along with Director Dean Israelite will take the stage at the Nerdist and Geek and Sundry's Camp Conival in Petco Park during SDCC.
Thursday, July 21st  at 2:30pm is the Power Rangers panel. On that panels is Becky G, Ludi Lin, Dacre Montgomery, Naomi Scott, RJ Cyler, and Dean Israelite on the PetCo Main Stage. Also, the cast will be presenting at the MTV Fandom Awards. (Source: RangerCrew)

That is not the only news we have received lately. It was officially announced that Bryan Cranston (who had twice previously lent his voice for the Power Ragners tv series, best known for his role on Breaking Bad) was cast in the role of "Zordon" for the new movie.
Shortly afterwards, the character posters for Jason (played by Dacre Montgomery), Zack (played by Ludi Lin), Billy (played by RJ Cyler), Kimberly (played by Naomi Scott), and Trini (played y Becky G) were released. You can view them below: