Thanks Rangerboard for the heads up.
After it was revealed that Papercutz, who had previously created the Mighty Morphin Power Rangers comics and Megaforce comics no longer had the rights to Power Rangers, many wondered what would come next. Would there be any more comics? Would the license go anyone else?
Today, which also happens to be the 20th anniversary of the Mighty Morphin Power Rangers movie, The Hollywood Reporter got the exclusive news that there will be more MMPR comics being made by Boom! Studios (Twitter) and you can get your first look at this year's San Diego Comic Con.
BOOM! Studios Online:
Twitter | Facebook | Official Site
Goni Montes (Cover Artist):
http://www.goniart.com/portfolio/mighty-morphin-power-rangers/
---
Via Hollywood Reporter: http://www.hollywoodreporter.com/heat-vision/comic-con-mighty-morphin-power-806010
"We have big, big plans that will build on the core universe of Mighty Morphin Power Rangers," said BOOM! Studios editor-in-chief Matt Gagnon. "We can't give too much away just yet, but the story we're kicking off with is vast in scope. Fans of BOOM! know we treat the existing properties we collaborate on with a focus on authenticity and quality. That's the same sensibility we're applying here."

At its Comic-Con booth (#2229 for those of you keeping track), Boom! will have an assortment of six double-sided, one-page comics in blind bag packaging available for sale.

Each comic will focus on one Power Ranger and feature a pin-up image by artist Goñi Montes (RoboCop) on one side, and a one-page comic written by Mairghread Scott (Transformers: Witchblade) and illustrated by Daniel Bayliss (Translucid) on the other side. The six comics are designed to be read as individual parts or can be stitched together to form one full story.

Details on the upcoming comic will be revealed at a later date.
Images for the Rangers after the jump.
Also included with the news was an image to give fans a little taste to what the comics will look like. Below are the images for:
The Red Ranger (via Hollywood Reporter)
The Green Ranger (via Entertainment Weekly – thanks Mugenhunt on Rangerboard for the heads up)
The Pink Ranger (via Comic Book Resources)
The Yellow Ranger (via RangerCrew)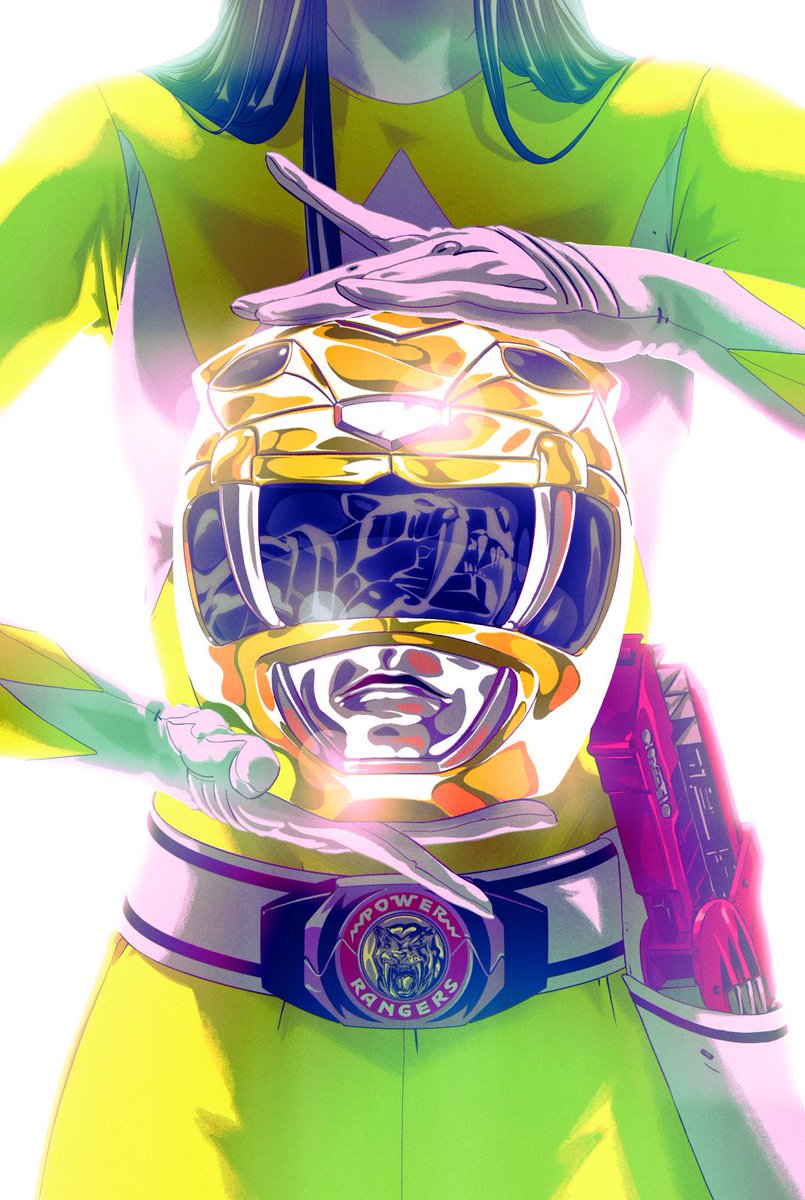 The Black Ranger (via ComicBook.com)

The Blue Ranger (via DenofGeek)