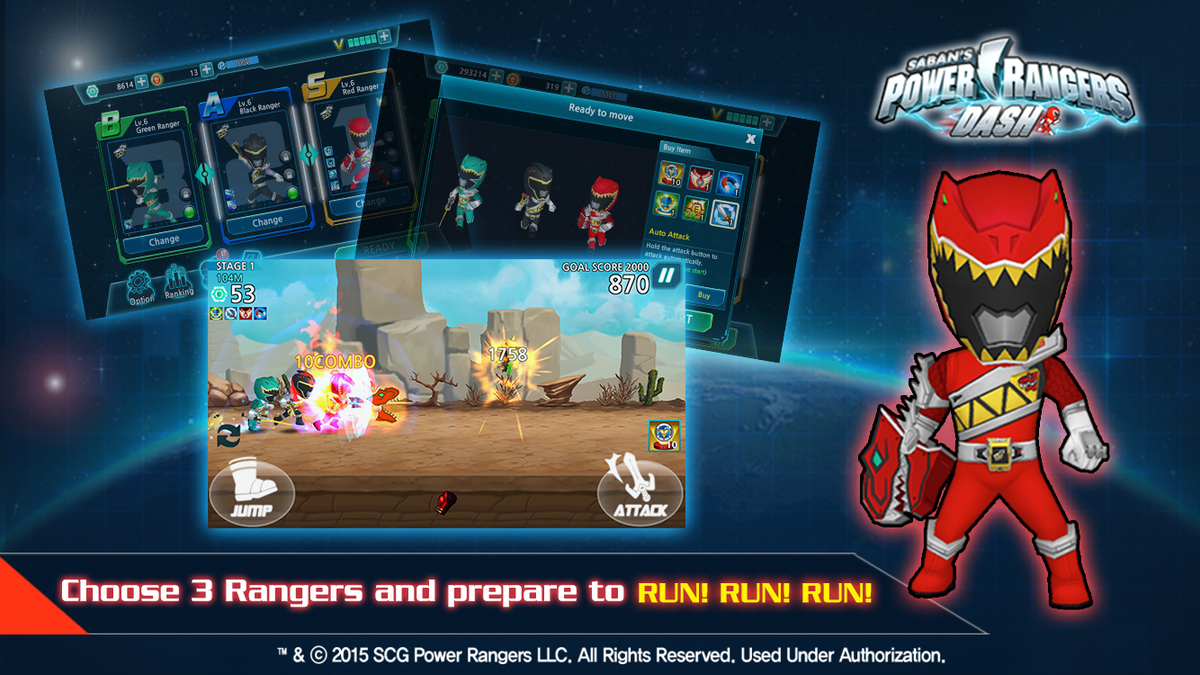 Thanks to Shukuen Shinobi (Twitter, The RRR Podcast, Toy Reviews), a member of the Power Force, for the heads up.
This game was originally only available in Korea but now fans are able to play the game as the game was just released for Android phones on the 31st. Don't worry, iphone users, an iOS version will be out soon.
Choose 3 of your favorite Rangers from our growing library of Power Rangers and do battle with minions and monsters, in this endless running action app! Play as one of 3 Rangers, even Morph into a Megazord using special coins found during gameplay
In this game you control three Power Rangers simultaneously to jump, double jump, attack, and of course, to dash. You can level up your three Rangers with E-Coins in the game; you defeat them by defeating the villains. You can also achieve bonus attacks if you pick 3 Rangers from the same team. Bonus levels are open daily and what's a game without being able to summon a Megazord?
For more information on the game, check out the official Facebook Page: https://www.facebook.com/powerrangersdash.saban?fref=ts
Download now: https://play.google.com/store/apps/details?id=com.Ironnos.PowerRangersDashSaban&hl=en
UPDATE: Power Rangers Dash (Saban) is now available for iOS users. Download below.
iOS users: https://itunes.apple.com/app/id857749986
If you download and play the game today through next week (April 16, 2015-April 23, 2015) you receive:
Gift : E-coin X 50,000
Have fun!
---
Additional images from RangerCrew (Twitter, Forum)
Promo Codes and where to input them:
https://twitter.com/SoddersLiger/status/584777779134214145
https://twitter.com/SoddersLiger/status/584783078150819840