Thanks to Mr. Yellow (Twitter) for the idea of this blog post.
If you do not wish to be spoiled for future episodes and plot points of Dino Charge, do not continue reading.
Related Articles:
Dino Charge Behind the Scenes
Dino Charge Casting
Dino Charge Filming Photos
Dino Charge Production
---
*First I'd like to point out that just because we think we know who the new Rangers are does not mean you should go to their social media accounts (if they have any) and start asking them over and over again if they're on the show.*
As many already know, and if you didn't before, surprise, there are going to be 10 or 11 Rangers in both seasons of Dino Charge put together. This total number has been fluctuating throughout the production of Power Rangers Dino Charge with 12 Paragon Prisms (renamed to energems) to 11 to 10 and back and forth and so on.
The Nick.com game, Power Rangers Dino Charge: Unleash the Power (which you can play here, with my review of the game here), has 2 characters already unlocked–Tyler, Dino Charge Red; and Shelby, Dino Charge Pink–with 9 other characters to unlock, giving you a total of 11.
What colors are these Rangers you ask? You have your core five: Red, Blue, Black, Pink, and Green. (Image via FilmNZ)

Afterwards we get the remaining colors of Gold, Aqua, Graphite, Purple, and Silver. (Image via TheModernGafa)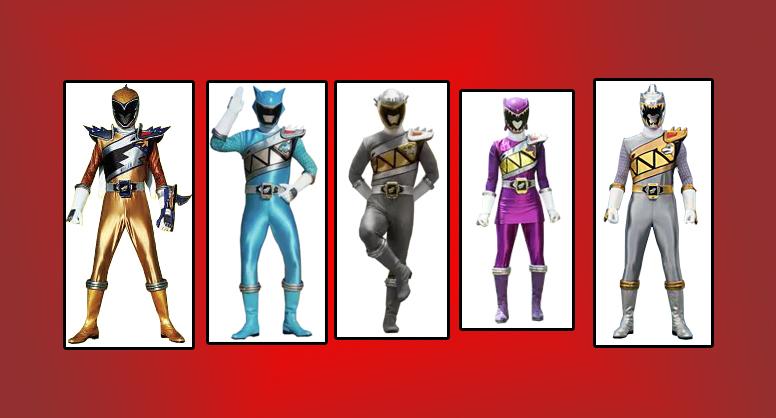 And the 11th, Talon. However at this time, it is unclear if the Talon Ranger is actually a suited Ranger or another element from Kyoryuger.

These colors were found through hacks of the Dino Charge morpher toy by various members of the fandom. These are also the colors of the unlockable Rangers in the Nick.com game.
Now, who are these actors playing these roles? While some roles and colors are hard to discern, we do know a couple.
Let's start with one we know for sure.