Discuss on RangerCrew: http://www.rangercrew.com/forum/showthread.php?28700-Power-Rangers-Dino-Charge-Pre-Discussion
Discuss on Rangerboard: http://www.rangerboard.com/showthread.php?t=170765
Discuss on TokuNation: http://www.tokunation.com/showthread.php?t=68834
---
While fans followed the casting process for Power Rangers Dino Charge, they found that the names on the casting sides were for Red Ranger Lucas, Blue Ranger Koda, Pink Ranger Shelby, Green Ranger Ryan, and Black Ranger Chase. Afterwards, speculation of the Ranger names started going through the fandom with members not wanting there to be a repeat of old character's names (Lucas; Time Force Blue, and Ryan; Titanium Ranger) after having two years of Mia/Gia and Emila/Emma.
Once the news of the cast had been revealed at Power Morphicon, and after a couple of days, Camille had taken to her instagram to announce she was playing Shelby, and during an interview with Radio NZ, James confirmed he was playing a character named Chase. This made many wonder if they would be sticking to the names on the casting sides.
Well, they kind of are as a fan (Rocky505) revealed the news on Rangerboard.
Camille Hyde had posted a picture to her instagram (now deleted) stating that the cast had all collectively signed their first group photo.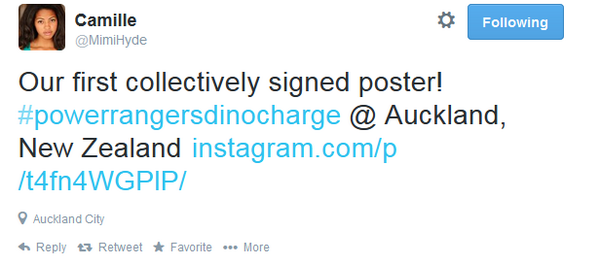 Fans were quick to catch that the character's names were on the photo and they are as follows:
Red – Tyler (played by Brennan Mejia)
Blue – Koda (played by Yoshi Sudarso)
Green – Riley (played by Michael Taber)
Black – Chase (played by James Davies)
Pink – Shelby (played by Camille Hyde).
It looks like more of the casting sides are being kept with into shooting, such as James riding a skateboard for Chase.  So what do you think of the names? Are you happy they stuck with the casting sides?
For those that want to know what the picture looked like:
"It was the Dino Charge promotional poster with autographs of the main 5 with their Show names underneath the autographs. " (Source). Thanks Rocky505!