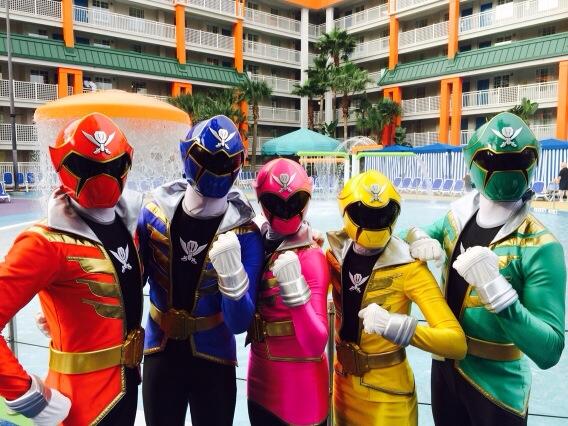 (Picture credit to @NickHotel)
Previously, I had posted a blog post about the Super Mega event being held in October for Nick Hotel. Nick Hotel's Super Mega event is a big hint for kids and families alike with activities such as a special lunch with the Power Rangers, training sessions, and a "dive-in" movie.
The last Power Rangers special event at Nickelodeon Hotel was held on the weekends of February 14-17, and February 21-23, 2014 (Business Wire's Press Release) right before the premiere of the new Super Megaforce season. Nick Hotel is holding a second super mega event the weekends of October 17-19 & 24-26, 2014 and are now holding open auditions for the costumed characters.
The auditions will be held August 18th and 19th at Nickelodeon Suites Resort. If you think you have what it takes to suit up as a Ranger for this special event, check out the guidelines below:
(via Great Job Spot)
AUDITION DATES & TIMES:

Monday, August 18, 2014

2:00pm – Power Rangers & Costumed Characters
Tuesday, August 19, 2014

6:00pm – Power Rangers & Costumed Characters
NICKELODEON SUITES RESORT IS CASTING FOR THE FOLLOWING POSITIONS:

Power Rangers: Dynamic performers with slender athletic build, to portray Power Rangers Super Megaforce for performances October 24th – 26th. Candidates must be available for daytime rehearsals 10/20, 10/21, 10/22 & 10/23.
Candidates with martial arts, gymnastics or acrobatics experience are encouraged to audition.
Male performer must be between 5'8" – 5'11" in height to be considered.
Female performer must be between 5' 0" – 5'5" in height to be considered.

Walk About & Show Costumed Character: High energy performers to portray Nickelodeon costume characters in our indoor and outdoor main stage productions, meet and greets, special events and character dining experiences. Must be between 4'10" – 5'10" in height to be considered.

GENERAL AUDITION INFORMATION:
All:
Please provide a non-returnable current headshot & resume
Registration starts 30 minutes prior to posted audition time
Must be 18 years of age to Audition
Please wear appropriate audition attire to allow for movement. Combination is taught on carpet.

Power Rangers:
A type out audition will apply for this position.
Please wear form fitting attire to show your silhouette.
Two ways to apply:
– At this link: https://workforcenow.adp.com/jobs/apply/posting.html?client=nickhotel
-At this link: http://www.greatjobspot.com/job/6020685/open-auditions-august-18th-and-19th/?TrackID=8#sc=rss&me=feed&cm=general, read the guidelines, scroll to the bottom and click the apply button, as shown below.
If you decide to audition, good luck!