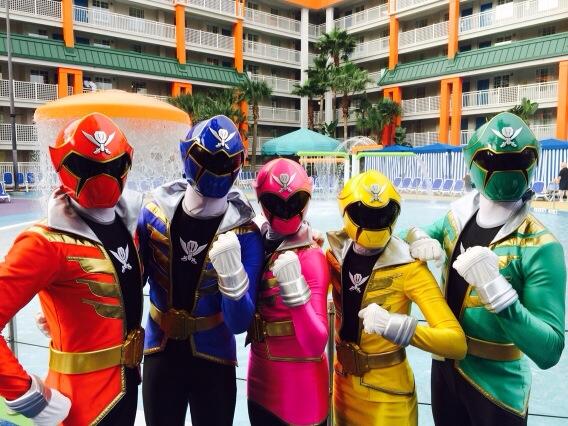 (Picture credit to @NickHotel)
The last Power Rangers special event at Nickelodeon Hotel was held on the weekends of February 14-17, and February 21-23, 2014 (Business Wire's Press Release) right before the premiere of the new Super Megaforce season. Nick Hotel is holding a second super mega event the weekends of October 17-19 & 24-26, 2014.
See the full list of events after the jump
Join us October 17-19 & 24-26, 2014 for a legendary weekend with meet & greets with the Power Rangers Super Megaforce, "Train Like a Ranger" lunch, themed activities, and screenings of new episodes. (Source 1)

Join your friends at the Nick Hotel as we POWER UP for Power Rangers Weekend with SUPER charged activities for those staying October 17-19 & 24-26, 2014.

It will be a SUPER charged Power Rangers Weekend with opportunities to:
Purchase a Power Rangers Super Megaforce themed background from Nick Pix.

Power up with a special lunch with the Power Rangers Super Megaforce which includes training sessions! (additional charges and reservations required).

Get up close and personal with a Power Rangers Super Megaforce character meet & greet.

Get your autograph book stamped during the character meet & greets.

Color Power Rangers-themed arts & crafts during craft hours, lunch and Nick After Dark (additional charge).

Receive Power Ranger Super Megaforce tattoos throughout the weekend during special events and activities.

Watch Dive-in Movie: Premier episode of Power Rangers Super Megaforce. (Source 2)
Here's a review of the previous Power Rangers Weekend, held in February. As well, here's a picture of the event from February by twitter user @SquidsGotJeans2/instagram user Shubertre, Picture. Videos by instagram user, mamiofmultiples:, Video 1, Video 2, Video 3.
Listed above as the "Watch Dive-in Movie" is the premiere episode of Super Megaforce. This is a line used in the previous marketing for the event when it was the premiere of Super Megaforce. At this point, it is not yet known which episode will be airing. There have been talks about both seasons of Power Rangers now having specials (i.e. clipshows), however, it's not yet known whether Super Megaforce will continue with this tradition.
---
About Nickelodeon Suites Resort
Located in the heart of Orlando's tourism district, Nickelodeon Suites Resort, otherwise known as the Nick Hotel, is much more than a place for guests to lay their heads at night. From two over-the-top pool complexes with slides and flumes, to live entertainment and Character Breakfast featuring Nickelodeon's beloved characters, to a multimillion dollar 4-D Theater, to the colorfully themed Kid Suites and gallons upon gallons of slime, Nick Hotel offers nonstop activity from dawn to dusk for the entire family any time of the year. For more information about the Nick Hotel, visit www.nickhotel.com or call (877) NICK-KID.
About Saban's Power Rangers Super Megaforce
Saban Brands will launch the newest installment of the Power Rangers franchise, one of the top-rated and longest running boys live-action series on television, with Power Rangers Super Megaforce. The new series, which premieres on Nickelodeon in early 2014, will deliver super mega action, humor, excitement and entertainment, in addition to the core themes of friendship, teamwork, fitness and helping others. Power Rangers Super Megaforce will introduce all-new morphing abilities, allowing the Rangers to morph into any team of Power Rangers from the past. The Power Rangers franchise is helmed by Haim Saban, who created and produced the original Mighty Morphin Power Rangers series in 1993. SCG Power Rangers LLC, which licenses and merchandises the Power Rangers brand, is an affiliate of Saban Brands. For more information, visit www.powerrangers.com.
---
For more information please visit the following links:
Nick Hotel Twitter: @NickHotel
Nick Hotel Facebook: Nick Hotel
Power Rangers Twitter: @PowerRangerNews
Power Rangers Facebook: Power Rangers